Pusan Busan Hostel : Review

Right off the ocean in Busan, South Korea is an attraction. Not a temple or a market but a luxurious hostel guesthouse. When you consider a resort hotel hostel an attraction and not just another dorm with a bed to sleep in, then you really have a special place for backpackers & vagabonds.


Pusan / Busan Hostel is located just a few steps from the ocean as pictured above in the Oryukdo SK View Condo complex.


Some may consider it slightly out of the way but the views (including from inside the hostel) are seriously breathtaking and the convenient bus stop right downstairs that comes by every 5 minutes makes it just perfect. Although this complex is a primarily residential area, its built like a small town with everything you need just a walk away. There are two mini shopping plazas just up the hill with grocery shops, bars, restaurants and even a bank. The complex is great for walking and jogging or to exercise on the many basketball courts and Asian style outdoor gyms. All within a very safe and secure "villagy" atmosphere.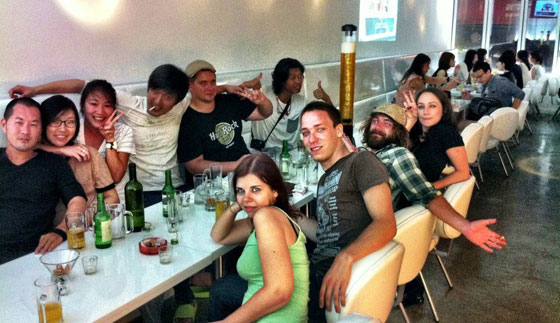 Tiger is the owner, guide and the eventual friend you will make. Stay for a few days and it will feel like your staying at a close friends house – a very comfortable, modern and luxurious house. So while this place is called Pusan Hostel, most people will end up calling it Tiger's place by the time they leave. Other than the lavish material things that 5 star hotels offer is the superb customer service. Well you get that at Pusan Hostel as well, at hostel prices. Tiger takes everyone out to town for dinner and partying every night, all through to the night no less – literally. He will stay up with you until the sun comes up and do it all again the following night, if your up for it. He also acts as a first rate concierge helping you to the end for anything from bus routes, attractions, language (he speaks English, Korean, Japanese and bit of French) and even proactively breaking the ice between new and old guests to maximize social activity. If you need anything, he will try and try his hardest to satisfy your needs.
Other than the well done and accommodating community living room, everything you need is there like a premium hotel. This hostel is basically a converted luxury apartment with separate 3 dorm rooms with 4 – 6 beds in each. Each individual room has their own environment controls to get your desired conditions. The hostel is a corner unit of the building so there are huge windows everywhere which happens to face the ocean with unobstructed views. The smoking room is a delight for smokers to hang out in which is on the balcony with a couple of comfy couches. The 3 full bathrooms are hi tech and cleaned every single day like clockwork. Pusan Hostel follows the Korean tradition of taking off shoes when entering making it that much more cleaner. Everything like the TV's, computers, appliances, furniture and lockers are new and high end. No expense was spared on the kitchen. Its spacious with gadgets galore, marble tops with all the utensils and pots you need for any type of cooking. Even the laundry machine is hi tech that anyone can use for a small fee. The fast and reliable internet Wi-Fi and use of the computers are completely free. The lockers require a small key deposit (which you get back) but most people don't use it because Pusan Hostel is very safe.


Another memorable experience of staying at this Busan Hostel is the staff. There is always 1 other employee at the hostel and 2 – 3 when it gets busy. Its not the same people all the time either. There are a few locals, expats, foreign students and travelling backpackers. So you can instantly get along with them as a friend and not just a person who is paid to be there. A few of them have actually stayed at the hostel before hand and liked it so much they decided to stay and work there.


Objectively Pusan Hostel is certainly one of the best I have stayed at and is personally my favorite… And the only hostel I would revisit a city for, not the other way around. If you are coming to Busan or anywhere in South Korea, this is the place to stay.


Pusan Busan Hostel
+82 (0)70 4132-4003
http://www.pusanhostel.com
110DONG 203HO NAM-GU YONGHO-DONG 944
BUSAN, SOUTH KOREA




-Subscribe to get free updates via RSS or email, follow us on Twitter or find us on Facebook-