Top 7 Touristy Things to do on a Trip to Barcelona, Spain

Barcelona is one of the biggest cities in Spain. It is within the Catalonian part of Spain, and most people that live in Barcelona almost see Catalonia as a separate country (but I'll save that for another post). It is a very cultural town so if you are into city culture you will really enjoy almost every square foot of Barcelona.


Here is a list of the top 7 things to do while taking a trip to Barcelona, Spain.
La Pedrera
Made by Gaudi (the famous artist, who's work is all over Barcelona), La Pedrera is a building in the Eixample district of Barcelona. La Pedrera's real name is Casa Mila but most people know it as La Pedrera. La Pedrera means 'The Quarry'. It was built between 1905-1910 (although was considered finished in 1912). If you like architecture you should check it out!



Museu Picasso
I will just assume you have heard of Picasso. He has a museum all about his work, his rise to fame and a large collection of his art. The museum is set in a medieval palace. It is very impressive.



Barcelona Cathedral
The Barcelona cathedral – also known properly as 'Cathedral of the Holy Cross and Saint Eulalia' – is a very big and very impressive building that was built between the 13th and 15th centuries. You will probably recognize the building from films as it has appeared in many.



La Rambla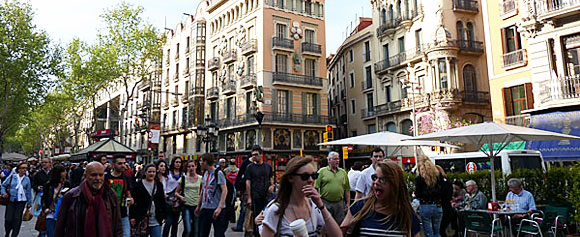 La Rambla is the main shopping district. One word of caution here – be careful of pickpockets. They thrive here and their prey are the tourists. You have to be really on your guard throughout Barcelona, but especially so in La Rambla.



Parc de la Ciutadella
This is a park and is Barcelonas largest one. It is a very beautiful one and definitely worth a visit to check it out



Barceloneta Beach
Barceloneta Beach and the other main ones in Barcelona cannot be missed if you are visiting Barcelona in the summer. They are very popular, very hot, and very relaxing. Don't miss the beaches if you are on a summer trip to Barcelona!



Gran Teatre del Liceu
If you like opera, then Gran Teatre del Liceu is one of the greatest opera houses out there. Do not miss a chance to hear the great sounds of Gran Teatre del Liceu if you are in Spain


-Subscribe to get free updates via RSS or email, follow us on Twitter or find us on Facebook-