A Look at The Top Nightclubs in Las Vegas

A recent report from a trade publication called Nightclub & Bar listed the top 100 revenue producing nightclubs and bars in the country, Las Vegas holds 8 of the top 10 spots and 15 of the top 30. If it hasn't already been claimed, I think it's safe to say Las Vegas is the nightclub capital of the world. Marquee, inside the Cosmopolitan, received the honorable top spot, raking in over $70 million in revenue in 2011. Not a bad year.


Let's take a look at the top 10 revenue generating nightclubs in Las Vegas
(national rank in parenthesis):



1. (1)Marquee @The Cosmopolitan, over $70 million.
Marquee opened in 2010 and already it is the most profitable nightclub in the country. Good thing they didn't go with the original title "Murky".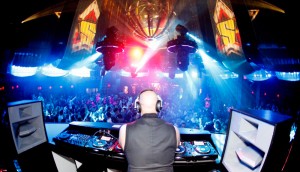 2. (2)XS, @ Encore, between $60 and $70 million.
I wish there was a word for how over-the-top this club is. If only a word existed that described something that has more than the necessary amount. Ah, darn this limited language of ours!
3. (3) TAO, @ The Venetian, between $60 and $70 million.
Every time I've ever been to TAO Chazz Palminteri has been there looking over the crowd like he was Caesar in a white linen suit. Maybe it's just a coincidence, but I think he might live inside TAO.
4. (4)Pure, @ Caesars Palace, $45 million to $60 million.
Speaking of Caesar! I wonder what part of this club Caesar would have been stabbed in? Probably right there on the dance floor. I was once kicked out of this club for a very valid reason.
5. (6) LAX, @ The Luxor, $60 million to $70 million.
I don't think I've ever been to LAX. Not that I remember anyway. But who goes to a nightclub so they can remember it? Dorks, that's who. I don't know what LAX stands for, but I'm assuming it's an abbreviated version of "relax". If I ever do go to this place (if it's still open) I will go around telling people to "lax" and see how long it takes me to get beat up.
6. (7) Haze, @ Aria, $35 million to $45 million.
Now this is an appropriate name for a Las Vegas nightclub. Everything about last night is "hazy" and it's probably better that way.

7. (8)Surrender, @ Encore, $35 million to $45 million.
I surrender.

8. (9) The Bank, @ The Bellagio, $25 million to $35 million.
This place is great because of the stadium-seating situation. It feels like you're about to watch Gladiators fight on the dance floor. If that actually happened I'd never leave this place. Are You Not Entertained?!?

9. (12) LAVO, @ The Palazzo, $25 million to $35 million.
This is probably my favorite place in town when they don't let it get too crowded. Though, they very often let it get too crowded. I highly recommend "Old-school Hip-Hop Wednesdays". There's always a guest DJ from 90's hip-hop fame you thought was dead. Hey look, it's MC Lyte!

10. (13) Tryst, @ Wynn, $25 million to $35 million.
Last time I was at Tryst I blacked out pretty hard. I either got robbed or gambled away a bunch of money. Probably the latter.

Always drink responsibly, folks.


-Subscribe to get free updates via RSS or email, follow us on Twitter or find us on Facebook-