Travel Guide : Canada By Train / Rail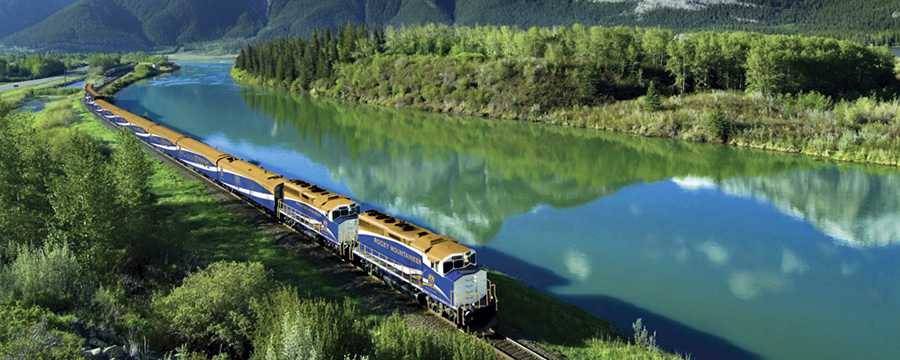 Canada is quite a large country which spans over 3,854,085 square miles, although the population in relation is quite small with only some 32 million or so people living there. Canada has some vast open spaces where there is little population, and all you can see is spectacular wildlife and scenery, especially if you travel through autumn time when you get the change of colours in the trees.
It is possible to travel the width of the beautiful country by bus if you wanted to, but it would make for quite a long journey. Alternatively you can fly the width quite easily, but you would miss out on a lot of the scenery.
An extremely popular method of transport with the tourists is to take the train across the country which is a relatively quick and comfortable mode of transport and also allows you to see all of the beautiful scenery.
Starting in the East
A lot of your tour companies will not start in the very east of the country, rather starting in the city of Toronto instead. You can do this part of the journey yourself though and use Rail Canada and start your journey off in Halifax near the eastern seaboard. From here, you can jump on the overnight train and head towards Montreal where you can spend a day or two exploring this old French colony which is now a very modern city. Both French and English are spoken here, and a lot of signs will be on both languages.
Once you have had your fill of Montreal it is time to jump on another train and head off to Toronto before you catch your sleeper train which will take you to the west coast. There is no longer a sleeper service offered between Montreal and Toronto so you will have to travel during the day. This does allow you to sit back and relax and watch the world go by, taking in some of the scenery as you travel.



All aboard in Toronto
You may wish to take a day or so in Toronto which will allow you to explore what the city has to offer, rather than jumping on the train as soon as you get there. It is going to take about four, and a half days to get to Vancouver so you may want to stretch your legs as much as you can before boarding. There are various different grades of accommodation available so will all depend on how many are in your party and also the budget you have available as to what will be most suited for you. You can even get a room with a double bed which is usually used by couples on their honeymoon.
As standard, you usually have bunk beds within most of the sleeping compartments, and most also have their own toilet and wash basin. If you decide to go for the cheaper berths though then you may have to share these facilities. You will need very little other than your clothes though, but some additional comforts may be appreciated if brought along.


Plenty of change of clothes
An inflatable Pillow
Books or Games
Food and Snacks (also available n the train)
Drinks (also available on the train)
If you do some advanced research and spot possible locations you would like to stop at along the way, then this can be booked and arranged, allowing you to get out and explore as well as stretch your legs. There are various websites where you can not only book this in advance but also get information and reviews of other guest's experiences.
Websites such as Travel Republic reviews their locations using their customer's comments and there are also other websites out there which have all of this information available at your fingertips.
Some of the scenery may be a bit repetitive between Ontario and the Rocky Mountains, although very beautiful, so you may wish to mingle and get to know your other travellers as well. When you do get to the Rocky Mountains, be prepared for some breath taking views as the train winds its way through these majestic mountains on its journey to the west coast.
You can travel from Halifax to Vancouver in as little as 5 days, although I would recommend that you do this over a longer period of time which will allow you to see more of the sights that are available in the beautiful and very hospitable country. No matter what you decide to do you are sure to be able to experience a trip of a lifetime which will last with you for the rest of your days!


Ted Hunter wrote this article. Ted is a keen traveller and writer, and he likes to share his many adventures in his blogs that he writes. He also likes to write reviews about Travel Republic cheap holidays.
-Subscribe to get free updates via RSS or email, follow us on Twitter or find us on Facebook-