10 Best Boutique Hotels in Paris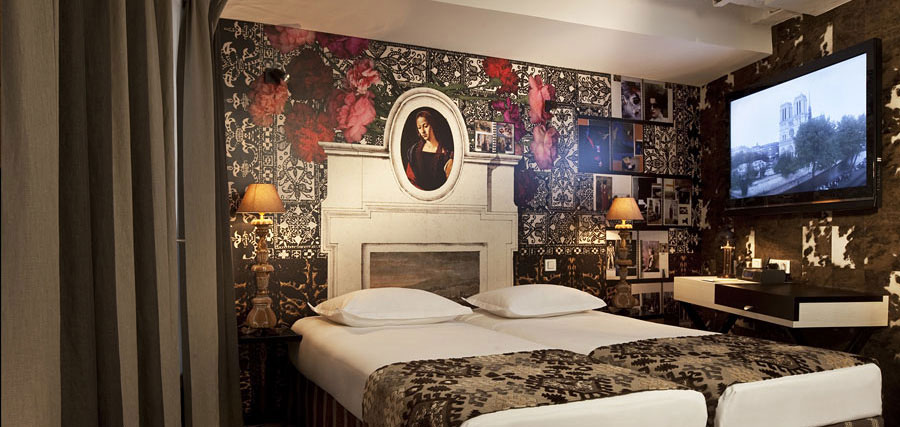 Paris is one of the most essential places to visit in the world. With its long romantic history, diversity and high quality dining, shopping and accommodation, Paris ranks among the top holiday destinations in the world. From the fashionable Left Bank through to the hip Latin Quarter, and taking in landmarks such as the Eiffel Tower, the Champs Elysees, and the sprawling areas of Montmatre and Saint-Germain, Paris offers extensive choices for visitors. Moreover, Paris is distinguished by its wide range of boutique hotels, of which the best include:




Five Hotel

Located in the Latin Quarter, the Five Hotel represents a designer townhouse that is closely associated with the hip shopping and art of Montparnasse within the city. Suites offer colour themed options, while the hotel includes striking fibre optic lighting and state of the art technology. One of the best hotels in the city for exploring Montparnasse and the Latin Quarter.




Hotel Therese

Close to the Louvre, the Hotel Therese represents an elegant, statement driven hotel. Converting an 18th century townhouse, the Therese is one of the most comfortable and chic hotels in the city, and offers an excellent base for easy travel around Paris.




L'Hotel

A key destination within the chic Saint-Germain area, L'Hotel is distinguished by its pools and exotic restaurant, as well as by its proximity to local boutiques, art galleries and museums.




Hotel de Banville

Within walking distance of the Eiffel Tower, the Hotel de Banville combines classic and contemporary styles. Soundproof rooms, and high quality cafes and bars help to make the hotel an ideal spot for central Paris visits.




Taylor Hotel

Found in Marais, one of the liveliest areas of the city, the Taylor Hotel provides soundproof comfort and easy access to nearby department stores and smaller boutiques.




BLC Design Hotel

An all white building, the BLC Design Hotel is located in the 11th arrondissement of Paris, and is excellent for those looking to explore the bars and boulevards of the city. Located between Bastille and Oberkampf, the area is distinguished by the Place des Vosges, Reublic and Gare de Lyon rail stations.




Hotel Joyce

Including an open bar for soft drinks, and understated, naturally lit bedrooms, the Hotel Joyce represents a more minimalist choice for travellers, and can be easily reached on the Saint-Georges line. Ideal for younger travellers, the hotel also includes free Wi Fi for guests.




Hotel Pulitzer

A cosmopolitan choice in Montmatre, the Pulitzer Paris is designed around a black and white colour scheme. Conveniently located for trips into central Paris, the hotel is also located near to the Galeries Lafayette and the Louvre.




Le Notre Dame Hotel

A relatively new hotel that faces Notre Dame Church, the hotel was redesigned by Christian Lacroix, putting a modern spin on the ancient Latin Quarter.




Color Design Hotel

Located in Bastille, and featuring suites designed around different colour concepts, this hotel is a short walk from nearby bars and shopping, and is one of the more visually striking destinations in the city.




-Subscribe to get free updates via RSS or email, follow us on Twitter or find us on Facebook-